Description
TUBEX SHRUBSHELTERS is a range of tree shelters with large diameters designed for shrubs and provides improved survival rates for shrubs by protecting against hares, rabbits, and voles as well as providing complete herbicide protection. TUBEX SHRUB SHELTERS are ideally suited to landscaping projects with mixed planting stock.
Unlike spiral or net products that can become embedded in the branches and bark of growing shrubs, the TUBEX SHRUBSHELTERS us quick and easy to remove – often a requirement on landscaping projects.
The TUBEX SHRUBSHELTERS PLUS is the largest diameter product currently manufactured by Tubex.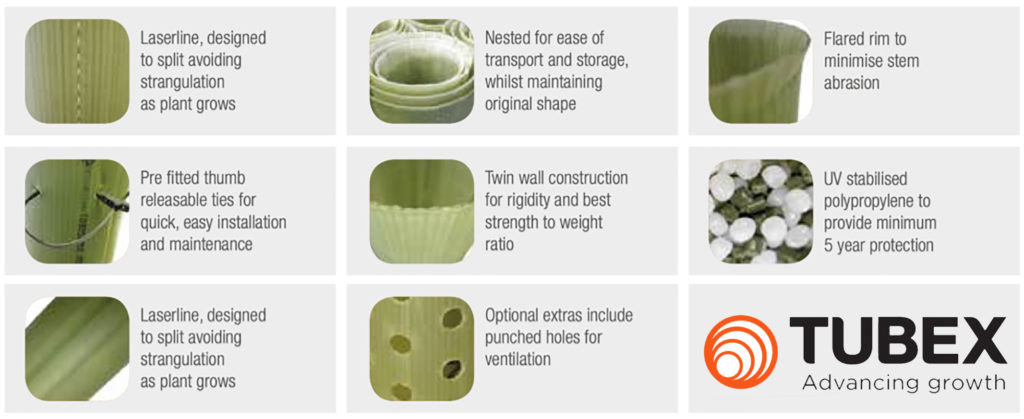 Features:
Height: 23″ and 28.5″(0.6m and 0.75m)
Diameters: 130mm to 160mm
Sold in Packs of 4 or 28
Bundles: 28 Shrubshelters(we offer bulk pricing)
Color: Green
Ties: 2×10
Designed to be supported by a 30″ stake
Nested for ease of transport and storage, whilst maintaining the original shape
Flared rim to minimize stem abrasion
Pre-fitted thumb releasable ties for quick, easy installation and maintenance
Durable Twin wall construction for rigidity and best strength to weight ratio
UV stabilized polypropylene to provide a minimum 5-year protection
Shelter Height requirements:
Rabbits – 0.6m
Hares – 0.75m
Muntjac Deer – 1.2m
Fallow Deer – 1.5m
Red Deer – 1.8m
Voles – 200mm
*shelter longevity is dependent on site and weather conditions but is typically 7 years plus.
Very important information. This is 99% of the time sold in bulk. If you have any questions about buying Tubex, it is best to contact us first and let us walk you through ordering and shipping. We are happy to help you out and ensure you get exactly what you expect.
Contact us: (800) 321-1037